This is a FRESH DIY! After searching online for a diaper pail deodorizer that actually works, I ordered some carbon filter sachets that had great reviews. The sachets are loose filters and do not come with a holder. I now needed a filter holder to secure the filters to a trash lid. I didn't want to spend money on something that I would have to modify to work with my new filters. I also couldn't let myself buy something I felt like I could make. Here is how I modeled and then printed a DIY Carbon Filter Holder for our trash can (diaper pail).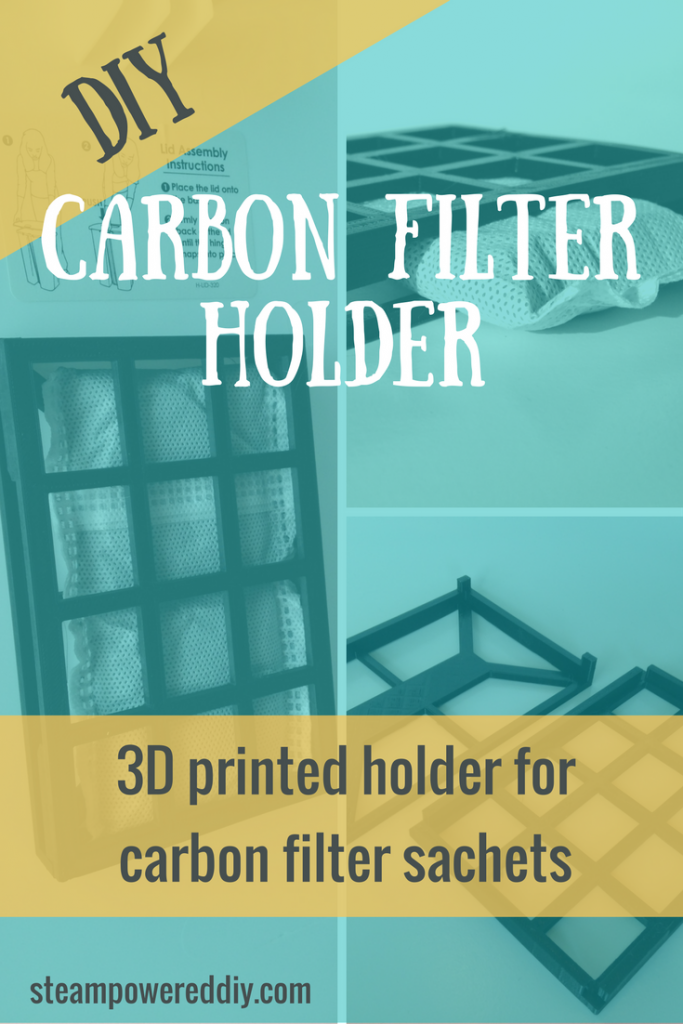 The main design features I wanted were for the holder to secure to our step open trash can lid, to hold two carbon filter sachets, for the sachets to not fall out with the motion of the lid, and for easy replacement of the filters
. To secure the holder to the lid, I planned on using command strips or adhesive velcro.
To keep the filters in the holder with an opening large enough for easy replacement required a little bit more design work
.
The trash lid has a slight, downward slope towards the front when closed. When the lid is open it is
nearly
fully
vertical in the opposite direction.
With the potential for the filters to slide out towards the front or back, it was clear that the filters would need to
be inserted
in the side
. I designed the opening to be on the side of the holder.
Having the opening in the middle allows for the filters to
be inserted
and placed at either side and then
easily
removed when it's time to
be changed
out
.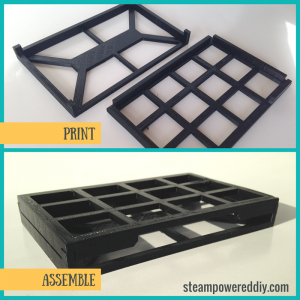 I initially modeled my DIY carbon filter holder as one solid piece to work out the geometries. Once I was happy with the design, I cut the model into a top and bottom that would easily print. I designed tabs and slots that allow the top and bottom to fit snugly together. The first design had a solid top. After starting a test print, I realized it would take a long time to print, so I added cut-outs to decrease the print time and amount of filament used. I left a solid area in the middle large enough for a command strip.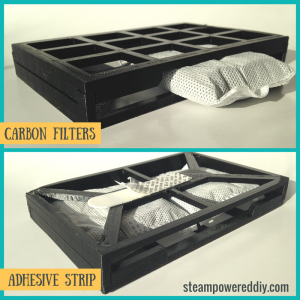 The fit of the two halves was snug after printing. I added super glue to the edges to be sure the motion of the trash lid won't cause the holder to open. I used a command strip to attach my new DIY carbon filter holder to the underside of the trash lid.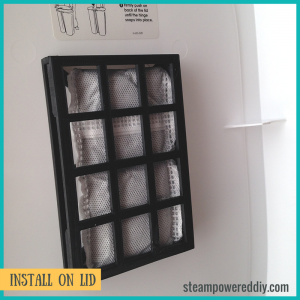 After being installed for the day, it was clear my DIY carbon filter holder with activated charcoal filter sachets had freshened up our smelly pail! I'm planning on an updated design that will have an area to attach a cotton swab with essential oils for a scented filter. Check back for the update!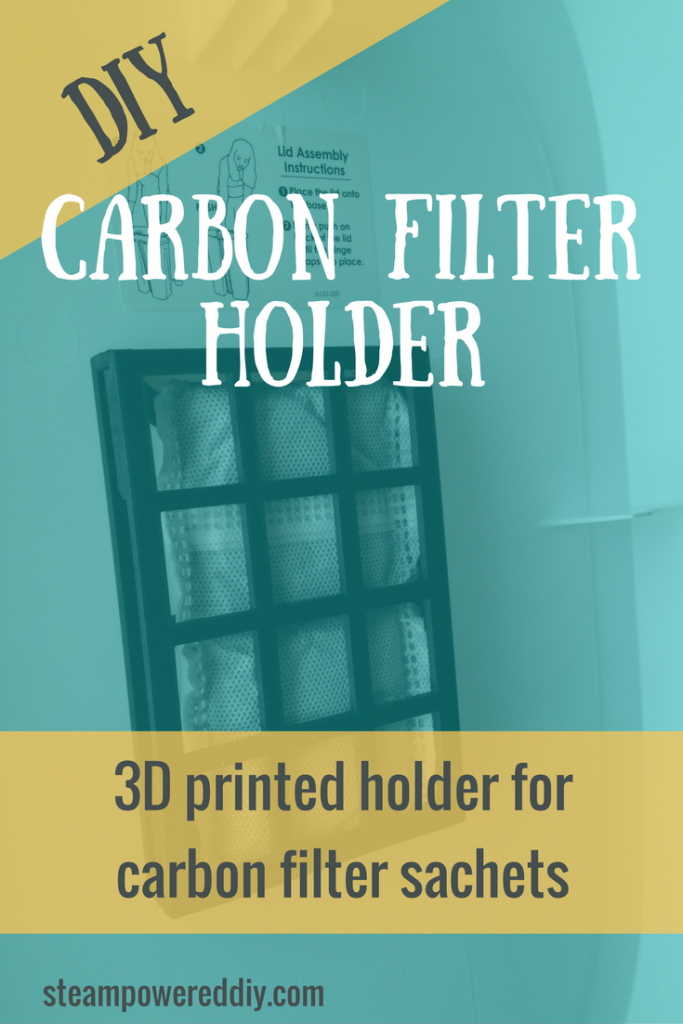 Supplies and Tools List:
(Purchasing through these affiliate links supports STEAM Powered DIY)
*Items used in this build
*Fusion360 (3d modeling software)
*Printrbot Simple Metal (3d printer)
Find Command strip refills
Activated carbon filter sachet

*Natural Air Purifier and Deodorizer Bamboo Carbon Filters, Set of 12
Search deodorizer carbon filter sachets