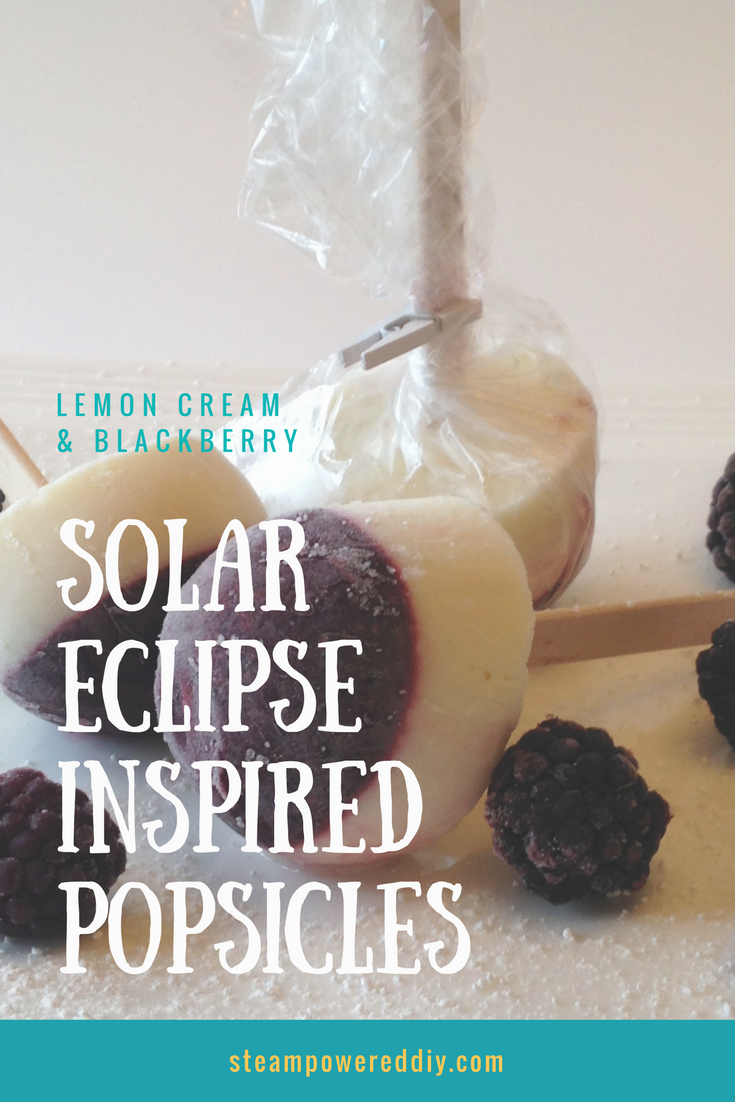 I wanted a fun treat to have while we celebrated the solar eclipse.  I tested a few recipes and came up with one that turned out great. These solar eclipse inspired popsicles are layered with lemon cream and blackberry. The layers give the illusion of the dark moon covering the bright sun. With only a few ingredients these popsicles are easy to make and are packed with flavor. You will love these treats any day of the week!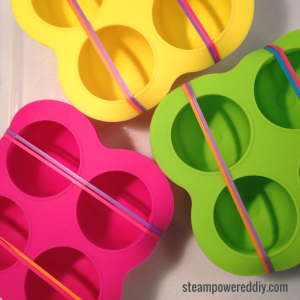 You can use any popsicle molds or even Dixie cups to make these. I used a round silicone mold to make a shape to mimic the eclipse. When making layered popsicles you will need to have the molds uncovered to have access for adding as the popsicles freeze. I used rubber bands to hold the popsicle sticks in place while still giving plenty of room to pour the flavors into the mold. I put two rubber bands crisscrossed for a snug fit on the popsicle sticks. If you are only making a single flavor popsicle you can cover the molds with aluminum foil, make a small slit, and insert each popsicle stick after your recipe is poured into the mold. Be sure to use food grade popsicle sticks. Regular wood craft sticks are not meant to be in contact with food. The great thing about the wood sticks is that you can make multiple batches of popsicles using the same molds vs. using the plastic sticks that come with many molds. Check out the supplies and tools section at the bottom of this post for recommended molds, where to find food grade popsicle sticks, and any other supplies or tools needed for this yummy project.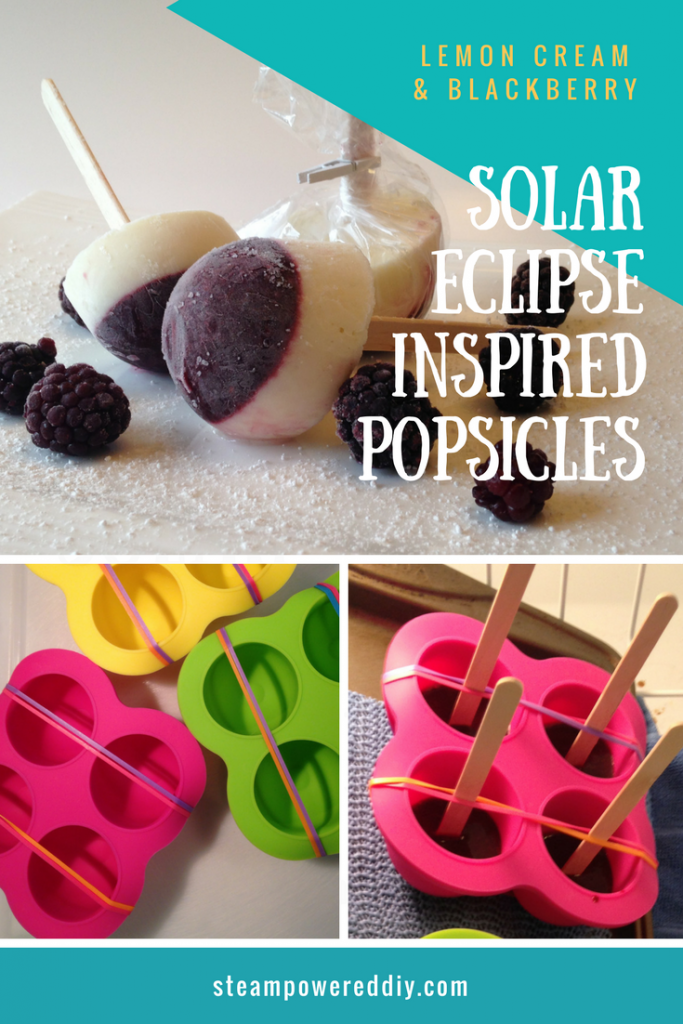 For the blackberry layer you will need two cups (230g) of blackberries, 1 tablespoon of honey, and ½ tablespoon of lime juice (fresh or bottled is fine). You can use sugar instead of honey if you prefer. If you use sugar you will need two tablespoons plus two teaspoons. I used frozen blackberries and microwaved them for one minute to soften. Next everything went in the blender, blackberries, honey, and lime juice. I used the puree setting to blend the mixture until it was smooth. I used a zip top bag as a pastry bag to divide the mixture up between the molds. Pour your mixture in a zip top bag, make a small slit on one corner and pour away. I then poured the mixture into my molds, put the popsicle sticks in place, and put the molds in the freezer. While the blackberry layer was freezing I made the mixture for the lemon cream layer.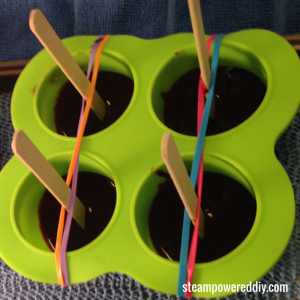 For the lemon cream layer you will need three lemons for ½ cup of juice. If you don't feel like squeezing lemons use the bottled juice. You will need to save one squeezed lemon rind to use later. So if you are planning on using bottle juice you will need one lemon for the rind. I also used one 14oz can of low fat sweetened condensed milk. I read that the lower fat content allows the popsicles to freeze better. Finally you will need two cups of milk. I used whole milk because that is what we had on hand. I cut the ends of the squeezed lemon rind and cut it into eight pieces to make it easier on my blender. Add the lemon juice, sweetened condensed milk, rind, and milk to the blender and puree until smooth. Use a zip top bag to add the lemon cream mixture to your popsicle molds.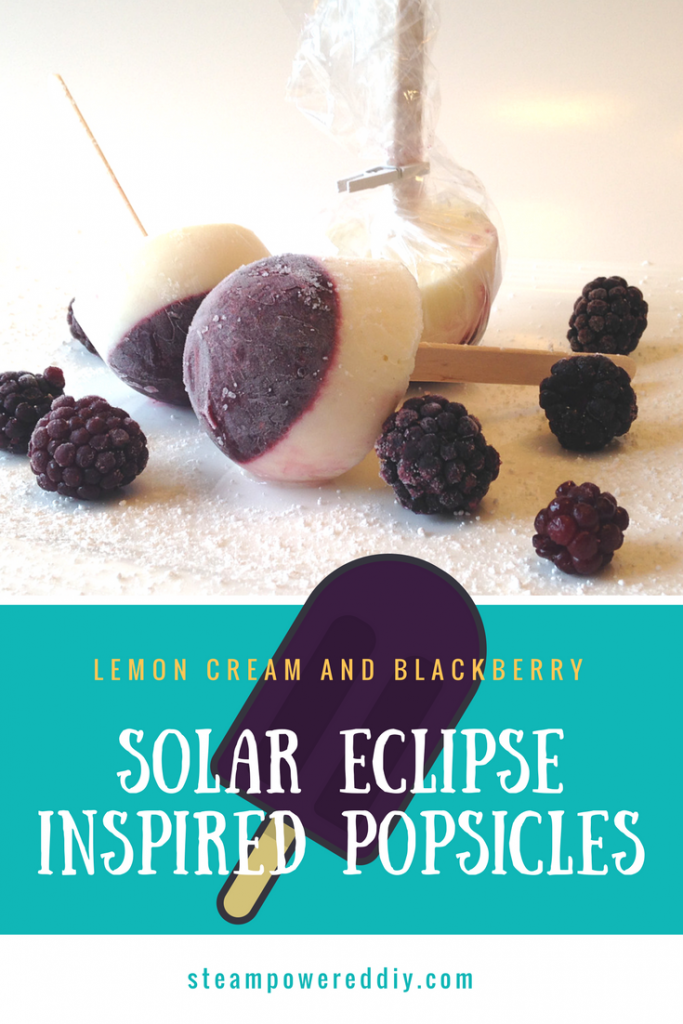 Once your popsicles are frozen you can pop them out of the molds and enjoy! If you want to store the popsicles out of the molds you can put each popsicle in a sandwich bag. Twist the bag around the popsicle stick and secure with a tiny clothes pin or other clip. You could even tie them with ribbon to give them as gifts or pass out in class.
My solar eclipse inspired popsicles were easy to make and turned out great. I know you will enjoy them as much as we did.
Supplies and Tools List:
(Purchasing through these affiliate links supports STEAM Powered DIY)
*Item used for this project
Can Opener
Knife
Citrus Juicer
Measuring Cups and Measuring Spoons
Popsicle Molds:  *Round Molds, More Round Silicone Molds, Traditional Popsicle Molds
Food Grade (FG) Popsicle Sticks:  *FG Wood Popsicle Sticks, More FG Wood Popsicle Sticks
Rubber Bands:  I used this fun, colorful pack from Dollar Tree. Any rubber bands that will fit your particular mold will work.
Wrappers:  I used sandwich bags. You could use any food grade wrapper.
Clips:  I used these mini-clothespins from Dollar Tree. You could also use ribbon, twine, or twist ties.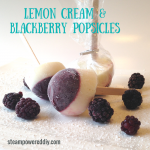 Lemon Cream & Blackberry Popsicles
Lemon cream and blackberry layered popsicles.
Ingredients
Blackberry Popsicle Mixture
2

cups

blackberries

about 230g

1

tbsp

honey

substitute 1tbsp + 1tsp sugar

1/2

tbsp

lime juice
Lemon Cream Popsicle Mixture
1/2

cup

lemon juice

about 3 lemons

1

ea

lemon rind

from squeezed lemon

14oz

oz

low fat sweetened condensed milk

2

cups

milk
Instructions
Prep Your Popsicle Mold
Prep your popsicle molds by adding rubber bands to hold the popsicle sticks in place. Place molds on a cookie sheet to more easily move them to the freezer.
Blackberry Popsicle Layer
If using frozen blackberries, microwave for one minute to soften. Juice 1/2 tbsp of lime or use bottle lime juice. Add all ingredients and puree until smooth. Pour mixture into zip top bag. Cut corner and divide into popsicle molds. Place popsicle sticks in molds and place molds in freezer. Make the next layer while it is in the freezer.
Lemon Cream Popsicle Layer
Juice 1/2 cup of lemon juice or use bottled lemon juice. Cut the ends off of one lemon and cut rind into 6-8 pieces. Add all ingredients to blender and puree until smooth. Pour the mixture into a zip top bag. Remove the molds with the blackberry layer from the freezer. Gently pour the lemon cream mixture on top of the blackberry layer. Place molds back in freezer and allow to freeze for four hours or until solid.
Wrapping Your Popsicles
Use a sandwich bag and small clip to wrap each popsicle and store in the freezer.